A home away from home, our Daycare is managed by committed and experienced teachers with strong background in care-giving and early years learning, who personalize the experience to accommodate each child's emotional, social and intellectual needs and temperament.
Learning is a dynamic process which occurs throughout the day, thus the child needs to be engaged in meaningful, playful and joyful learning experiences. The Daycare program has been carefully designed for children such that they are constructively engaged and involved in different explorations before returning to their parents.
Surprise Elements*
Free access to Busy Bee Activity Club
Complimentary Fresh & Nutrious Food as per child's dietary requirement

Access to on-call Pediatrician during Daycare program
*Terms and conditions applied
Schedule

Monday – Friday
9:00 am onwards
Customize the schedule on hourly basis
Age Group
1 – 10 years old
Starting at only
225 INR /day*
Benefits for Children & Parents
Child Safety
We focus heavily on child safety. Rigorous pre-employment background checks and other security measures are maintained to ensure a safe learning environment.
Routine
Where babysitters can be unreliable at times, the hours of a Daycare remain constant in every season. Children with routines at daycare are often also more accepting of consistent home schedules. The structure also helps parents.
Better Communication
Interaction with other children is vital for healthy social development. Daycare centers foster positive interactions and more effective communication skills that parents will begin to recognize and appreciate at home.
Stronger Friendships
Frequent interaction in Daycare brings children out of their shells when they find friends with similar interests and personalities. Parents might also find surprising friendships with other parents or guardians that they meet through the care center.
Healthy Independence
The stress that a child may experience in the first days of care is a temporary emotion. Spending time away from the family in a healthy, safe environment is in the child's favor. Daycare gives children a chance to develop independence and self-governing responsibility.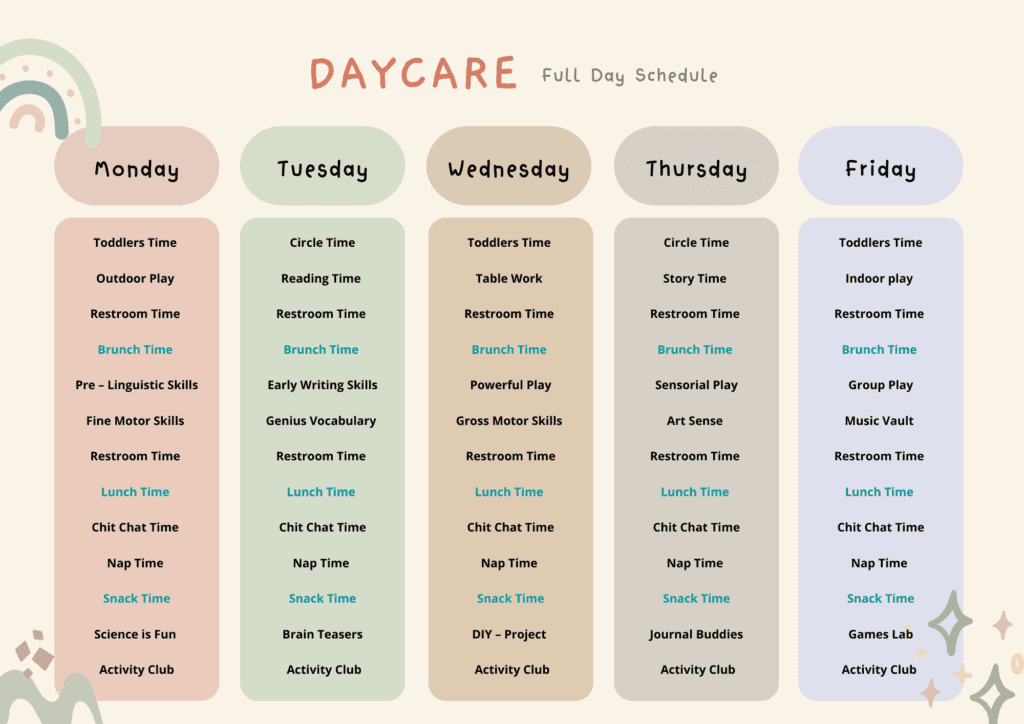 We are more than an Preschool
Enroll your kids to our multiple programs: